GIFTS FOR KIDS
Buying gifts for kids is always fun. You simply cannot beat the excitement that comes when they finally get to unwrap them. So whether you are celebrating a baby's first ever holiday season or preparing their transition into teenage years, we have your gifting sorted with kids clothing, shoes and accessories, for all ages and activities.
FIRST STEPS
When it's cold outside, there's nothing more cosy and comfortable than a fleece jogger set. Perfect for active kids, the stretch fleece material is ready for movement whilst soft in feel for a seamless snoozing experience, whenever the time is right.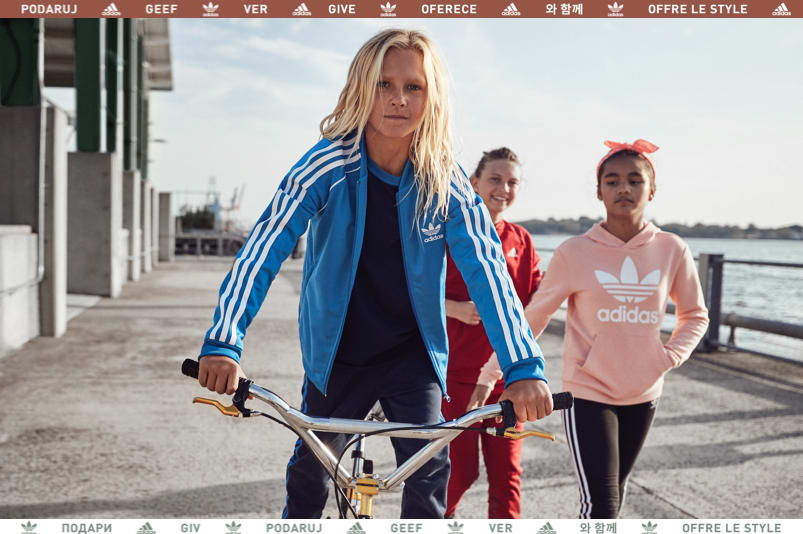 Forever a classic, the adidas tracksuit is available in a variety of different colours, with a 3-stripe motif on the sleeve. Giving a cute, sporty look whether you are buying for a boy or girl. And for a more playful twist, you can choose from a range of vibrant graphic prints.
If you are buying for little feet, we have shoes to keep them playing comfortably without compromising fun. Remaking classic adidas style for younger ones, you can't go wrong when choosing from any of the Originals' footwear silhouettes. So whether Gazelle, Superstar or Stan Smith—choose a shoe that they will love for years to come. And if you are looking for something warmer, we have winter boots to keep those tiny toes feeling toasty as the seasons change.
PLAYGROUND TO PITCH
Between the ages of 4 to 8, kids are growing and learning fast. The world outside is exciting to explore and they are already making it their own. If you are seeing the beginnings of an interest in sport—now is the time to encourage those formative steps, without putting a stopper on fun. Across our range of active clothing, footwear and accessories you can find the gear that will transition them from the playground to pitch.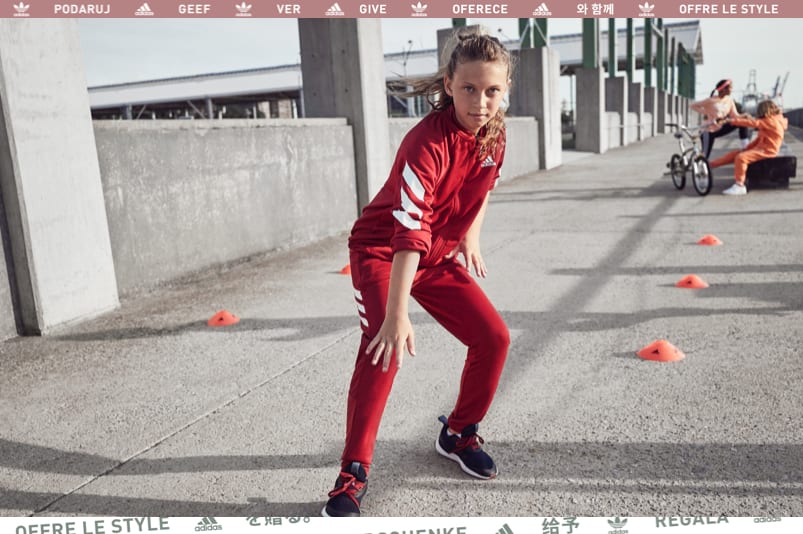 For comfy sporting style, a track jacket will give an extra layer of warmth to keep kids moving through the winter, whilst a soft fleece hoodie will provide a cosy feel whatever the conditions. If you are looking for something to keep them sheltered when the weather turns, kids will love a chunky puffa jacket. Alternatively, a classic windbreaker is perfect for a sudden downpour and available in a variety of playground-ready colourways, for both boys and girls.
For carrying those daily essentials from home to school, park or playground, we have a range of backpacks that are comfortable, stylish and built to last. Allowing kids to organise and carry their favourite things for each day with plenty of space for books, clothing, toys and snacks.
If you are looking for something smaller, why not choose a comfortable beanie for keeping heads cosy? Or, if they are showing an early interest in a particular sport—choose from our range of accessories, from shin pads and goalkeeper gloves to hockey sticks, swimming caps and goggles.
TEENAGE YEARS
As kids transition into their teenage years, it can be hard to keep up. Styles change and trends emerge as quickly as they fall back. But whether you are shopping for shoes, clothing or accessories—we have you covered with stylish gifts that will never grow old.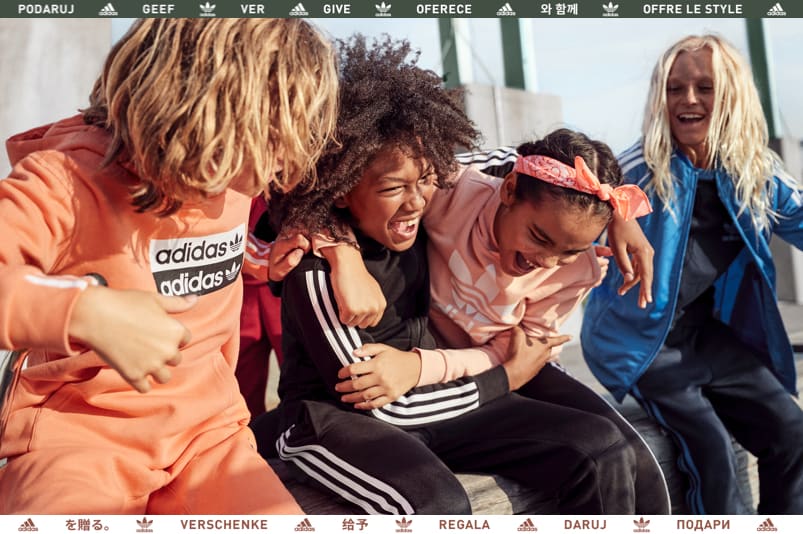 If you are shopping for an aspiring runner, we have shoes that will take them to the next level. From Runfalcon to UltraBOOST, find the perfect pair with a variety of levels of support and cushioning to see younger runners through all conditions. And if you are looking for a running winter layer, then alphaskin is perfect for managing heat and sweat, with a range of tights and tops for both boys and girls.
For football lovers, kids are never too young to show support with team kit. And whether you are buying for a younger Gunner or a maturing Madrista—our range covers the best club and national jerseys. Comfortable and stylish in all situations and made from soft, sweat-wicking fabric to keep young scorers playing at their best.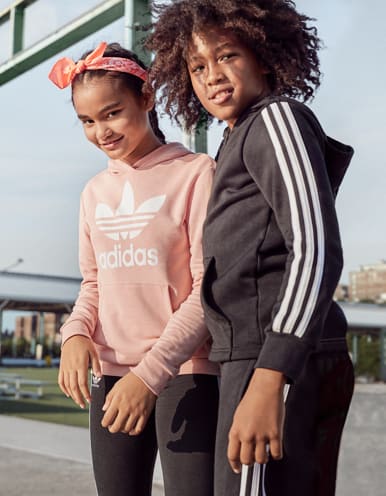 We also have football boots for all playing styles, taking younger players from park to pitch whether they are a mini midfielder or a speed focused striker. For looking the part, the Predator remains a classic boot, combining match-long comfort and control with uncompromising style. Or for kids that don't like laces, the Nemeziz is a boot designed for speed and agility that can be slipped on in a second, whether playing on firm, soft, artificial ground or astroturf and available in a range of colourways, to brighten the pitch.
For active kids, we have footwear for all sports and activities. Whether you are choosing from the Duramo to the AltaSport, our training collection includes lightweight, comfortable shoes ready for sport in style. Perfect when paired with training essentials, from tops, tracksuits and jackets, to shorts tights and trousers—we've got you covered. And if you are looking for accessories, you can't go wrong with a casual duffel bag, ideal for keeping their kit in one place, whether getting ready for practice or sleeping over at a friend's.
If you are shopping for a streetwear style fan, the Originals range involves timeless heritage looks that get better with every season. From understated to loud, choose from iconic silhouettes that can be worn in any way. And whether Stan Smith, Superstar or Gazelle—match your gift to their personality, by choosing from a range of different colourways.
When it comes to clothing, you can't go wrong with a winter-ready hoodie or sweatshirt. Combining timeless Originals style, with a comfortable look and feel. Perfect thrown over a sporty logo t-shirt, or worn under a cosy padded jacket. And if you are in search of something smaller, headwear is always a winner. So whether simple beanie, or embroidered baseball cap—we have them covered for all seasons.
Stay Updated
Be the first to know all about stories, launches and events.