GIFTS FOR WOMEN
As the temperatures begin to fall, warm up inside with our curated selection of gifts for women. We have you covered with footwear, apparel and accessories for all sports and abilities. So get in early and prepare for the gifting season ahead.
FURTHER AND FASTER
We know the score. As the days draw shorter, the motivation to get outside can fall. But with the right gear, the winter months can be a great time for clocking miles, through rain, sleet or snow. And whether you are buying shoes for an aspiring runner, or marathon miler—we have the kit for every level and ability.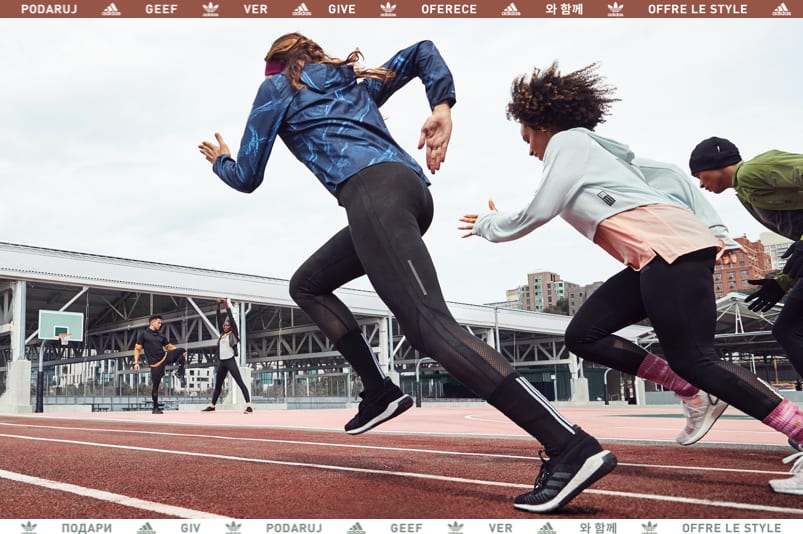 When it comes to buying shoes for running, you don't have to compromise performance over style. Our running footwear combines future tech and materials with everyday wearability. Taking runners from speed session to city, with comfort and style. If you are shopping for someone who needs long distance support—adidas BOOST technology will provide lightweight cushioning to energise every mile. Whereas ADIZERO will give a speedier and more responsive feel. Ranging from understated to loud, all colourways are covered. And with a range of knitted uppers and adaptive materials, we can help you find a perfectly fitted shoe.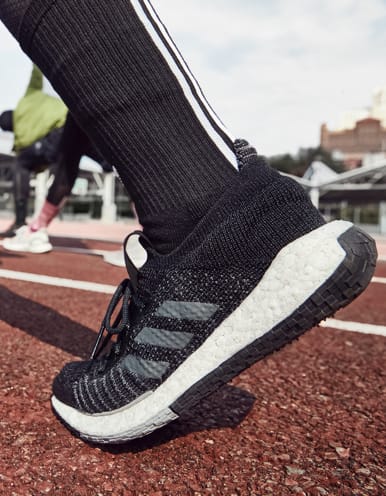 Designed for escaping into the outdoors, trail running shoes combine performance features with classic adidas style. Whether climbing mountains or exploring the city—our outdoor running range is ready for all conditions and versatile enough to be worn in a variety of contexts. So for a gift that's made for more, give her the gear to inspire a future adventure.
As the temperatures fall, winter layering is key. Combining athleisure looks with performance fabrics, the adidas Stella McCartney collection has sleek, winter-ready layers to give extra warmth on colder days. Whether choosing from gilets to jackets—she will stay warm and sheltered in all conditions. And for locking in heat, Alphaskin tights and base layers are designed to provide compression and support for all running styles, whilst versatile enough to be used in all sports.
FOOTBALL LOVER
Turning gifts into goals—we have all things covered for football lovers. Whether you are buying for a seasoned striker, or a full time fan. Our football range will up her game, with timeless sporting style.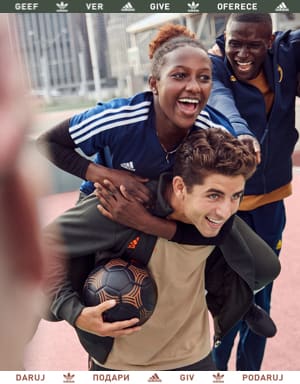 Forever a classic, a well chosen football shirt will look great from street to stadium. They are comfortable, technical and stylish. So whether you are buying for a diehard Gunner or a loyal Madridista—give her the gear to show support in style.
With different playing styles and approaches, buying football boots can be a personal affair—but we are here to help. Balancing understated style and sophistication with game changing performance features and materials, the Copa is one of the earliest football boots and remains a classic. For a more contemporary looking shoe, the Predator is designed for pinpoint precision, whilst the Nemeziz is perfect for speed and agility. And with a range of seasonal colourways available, your gift will brighten the pitch throughout the year.
If you are looking for something smaller, you can't go wrong with socks. You could even throw in a cap to match. And easily overlooked—a straightforward ball is always a winner. From simple training balls to collectable classics, we have your holiday kickabout covered.
KEEP MOVING
It's cold. It's dark, and the ease of watching films indoors has never been more appealing. But by gifting her some stylish new gear, you can warm her winter workout and keep her motivated, whatever the conditions.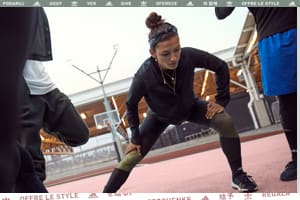 For a contemporary, tailored look, the adidas Stella McCartney collection is perfect for easing the transition from work into workout. Choose from comfortable tights, shorts and tops for sport essentials and build a breathable base that can be worn beneath a pull-on puffa jacket or parka to warm up those colder days.
If you are buying footwear, our training shoes will provide comfort, support and athletic style, whatever the workout. Available in a variety of colourways, from subtle monochromes through flashes of colour, that will complement her training palette. And for those additional extras—gym bags, backpacks and duffels will keep her gear in check. Versatile enough to be used for her daily essentials whilst well constructed for year-round travel. If you are looking for a smaller gift, you can't go wrong with headwear with a range of hairbands, caps and headbands to choose from.
ALWAYS ORIGINAL
Inspired by the heritage of adidas and designed with contemporary appeal, Originals' clothing, footwear and accessories provide effortless style that will look good in any situation.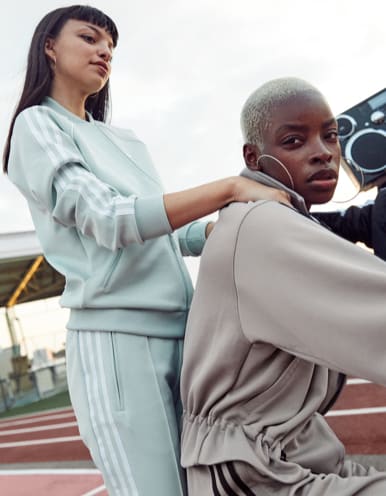 Whether dressed up or down, the Stan Smith silhouette remains an undisputed classic, perfectly understated and versatile enough to work with her every outfit. And then there's the Superstar, mixing adidas stripes with an iconic shell toe, it's available in a variety of colourways. Or, for true simplicity in style, the Gazelle looks great in suede. And if you are looking for something special— most Originals shoes can be personalised with custom lettering, allowing you to add a name, number or emoji as you like.
For an outfit that will never grow old—a tracksuit provides comfort and style for any occasion. Versatile enough to be worn as a complete striped ensemble, or as a separate jacket and trousers, with all different colour combinations. And for those extra wardrobe items—logo t-shirts are always a favourite. Perfectly paired with comfortable leggings, or warmed through the winter with a classic Adicolor hoodie.
For a smaller gift, choose from a range of different bags for carrying those daily essentials or a weekend away. If you are looking for a staple with stripes, you can't go wrong with adidas socks—available in a variety of colours they will work with every outfit. And to see her through the seasons, it's never too early to start thinking about sun ahead. Whether bucket hat or cap, she can keep it classic throughout the year.
Stay Updated
Be the first to know all about stories, launches and events.