HOW TO CHOOSE RUNNING SHOES
Lace up with confidence after finding your perfect match. From new runners to seasoned marathoners, use our running shoe finder to choose your ideal shoe.
WHAT TO LOOK FOR IN RUNNING SHOES
If you were to ask 100 runners what makes a good running shoe, you'd likely get 100 different answers. Distance, running surface and performance preferences all play a role in what people look for in running shoes, creating an overwhelming amount of options to choose from.
To find the right pair for you, consider which features are important for your running habits.
If you're running in the city, you might favor a responsive, cushioned shoe. If you favor the trails you might choose a shoe with durable traction and support. If you run on a treadmill and then jump into squats and burpees, you'll likely want a cross-trainer.
What level of cushioning do you like?
More cushioning delivers more energy return and cloud-like comfort, but it can also mean a heavier shoe that is higher off the ground. Less cushioning lets you feel the ground as you run. Everyone is different, so determine what feels good to you.
Do you need specific support?
If your ankle and foot rolls inward, that means you overpronate. If your weight rolls to the outside of the foot, then you supinate. These movements can cause pain or discomfort, and you might benefit from a shoe with specialized support to keep your foot in a neutral position.
ADIDAS RUNNING SHOE SELECTOR
Now that you know the basics for finding the right fit, it's time to dive into finding the perfect shoe for your running style. From the most cushioning to race-day favorites, we're breaking down all the categories so you can find your perfect match.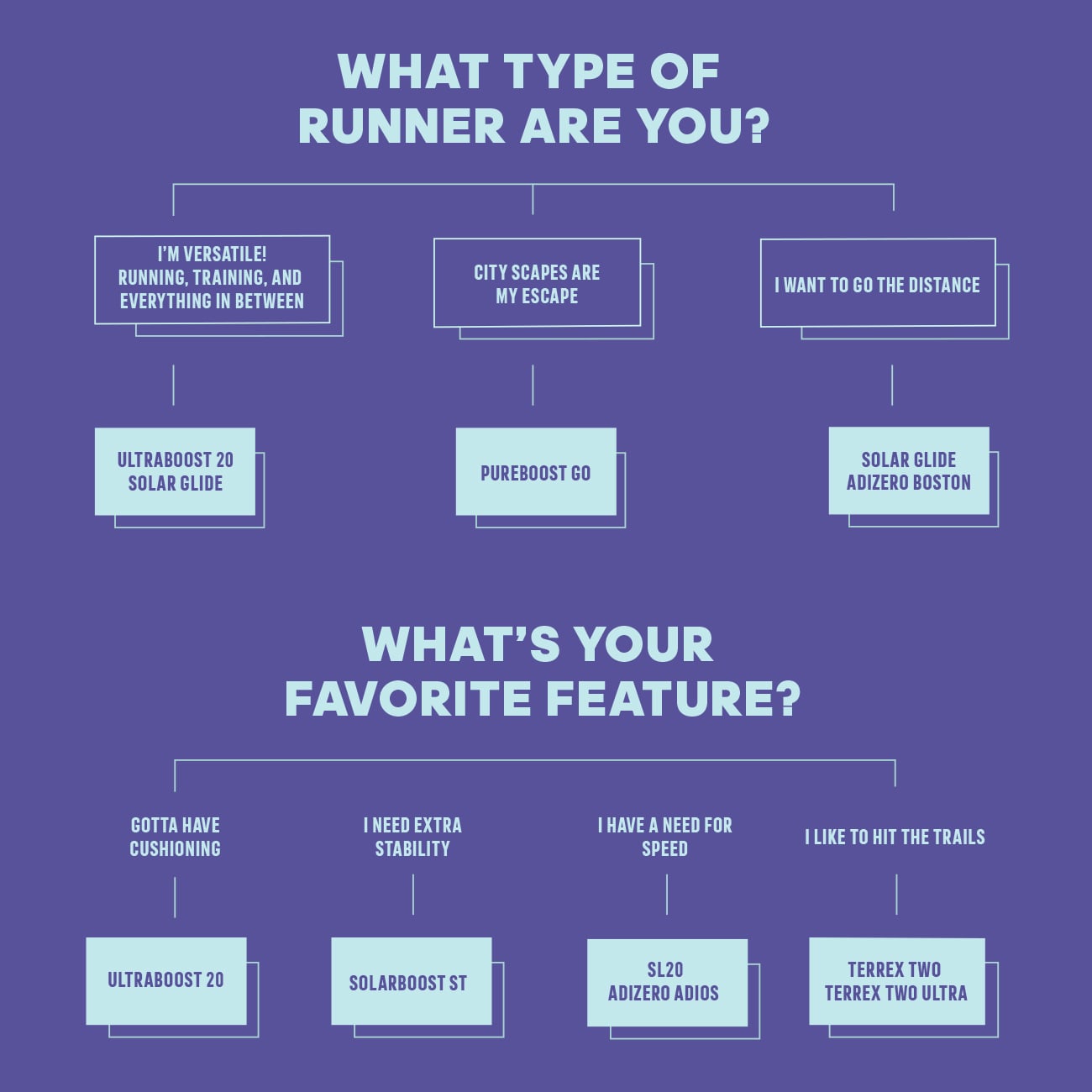 ALL-AROUND RUNNING SHOES
These are your cushioned, everyday trainers. They're great for beginners who are lacing up for the first time as well as seasoned pros who want a springy shoe for recovery runs. These shoes have more cushioning that lifts them up off the ground for exceptional energy return and comfort.
Ultraboost 20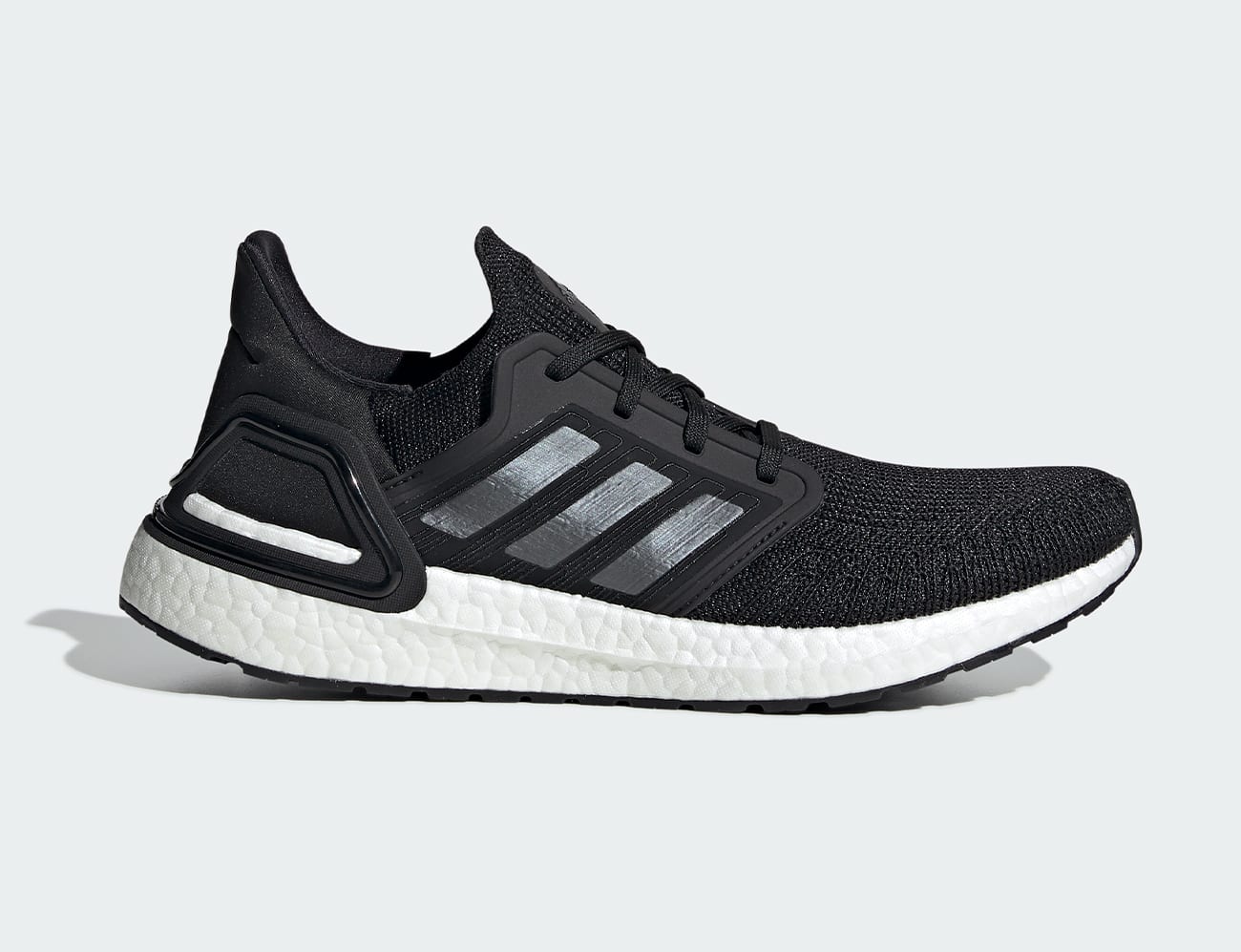 Choose Ultraboost if you want the most cushioning.
With the first launch of Ultraboost in 2015, the running shoe has made waves with its iconic Boost midsole. Constructed from thousands of expanded foam particles, Boost is our most responsive cushioning technology ever. The Ultraboost 20 is the latest release and features 20% more Boost in the midsole for even more cushioning and energy return. The breathable, sock-like Primeknit upper hugs the foot for support, and the heel frame and precision stitching in the forefoot add both stability and control with every landing. From subzero to melting hot days, Boost delivers consistent performance, making it a great year-round trainer.
In addition to the technology, Ultraboost 20 crosses over into streetwear with its sleek silhouette and cool colourways. This versatility and comfort make it a great cross-training shoe for people who are just getting into running, as well as a great recovery running shoe for more advanced runners. To find your ideal Ultraboost fit, read our Ultraboost sizing guide.
Solar Glide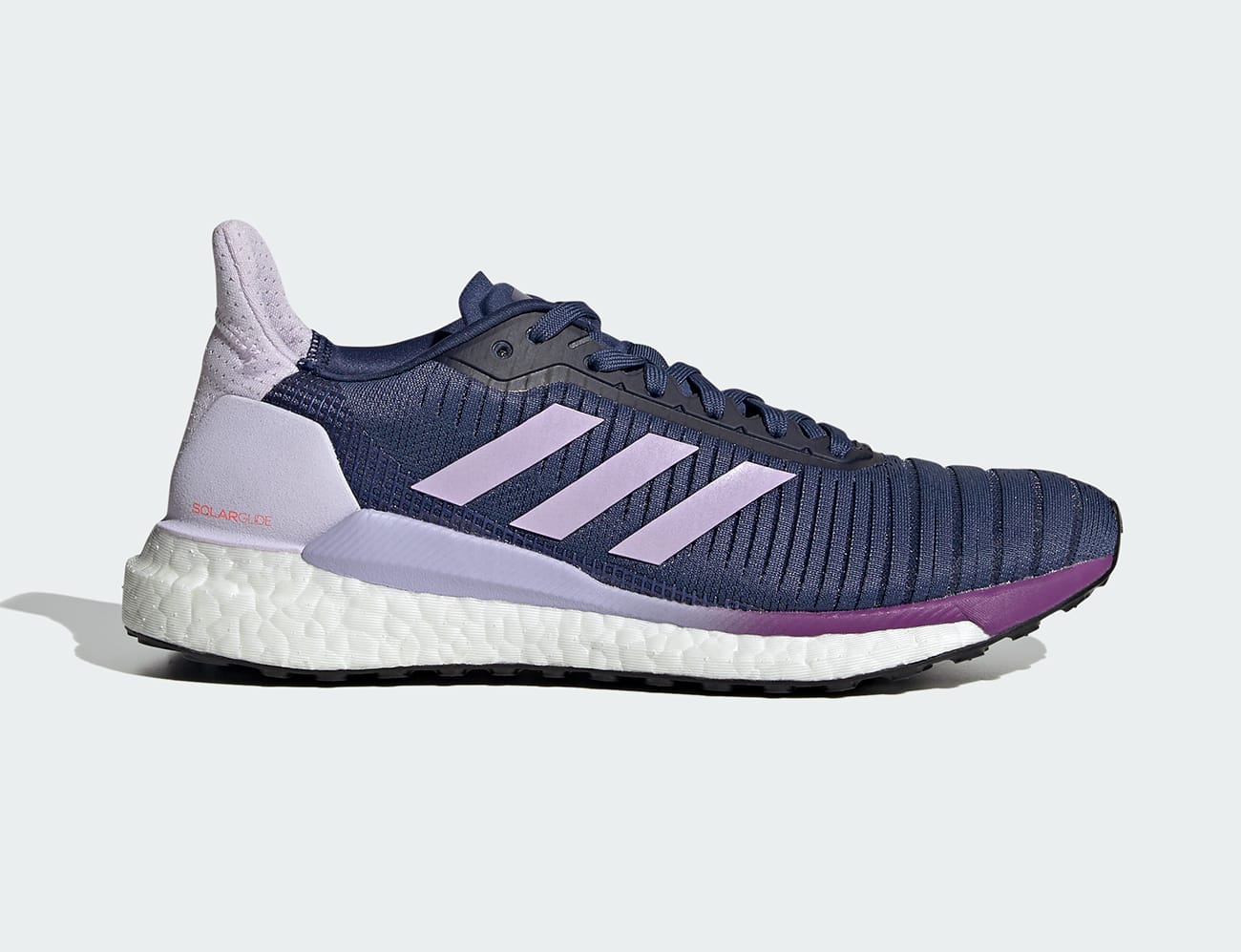 Choose Solar Glide if you want a distance shoe with cushioning and energy return.
These long-distance running shoes come in men's and women's versions for the perfect fit. The midsole features Boost cushioning for maximum energy return no matter how far you're going. To keep your stride stable and balanced, a stability rail and molded heel work together to guide the foot without restricting natural movement. The lightweight, breathable mesh upper keeps you comfortable for the long haul, making these great neutral running shoes for runners who are starting to build up their distance.
Pulseboost HD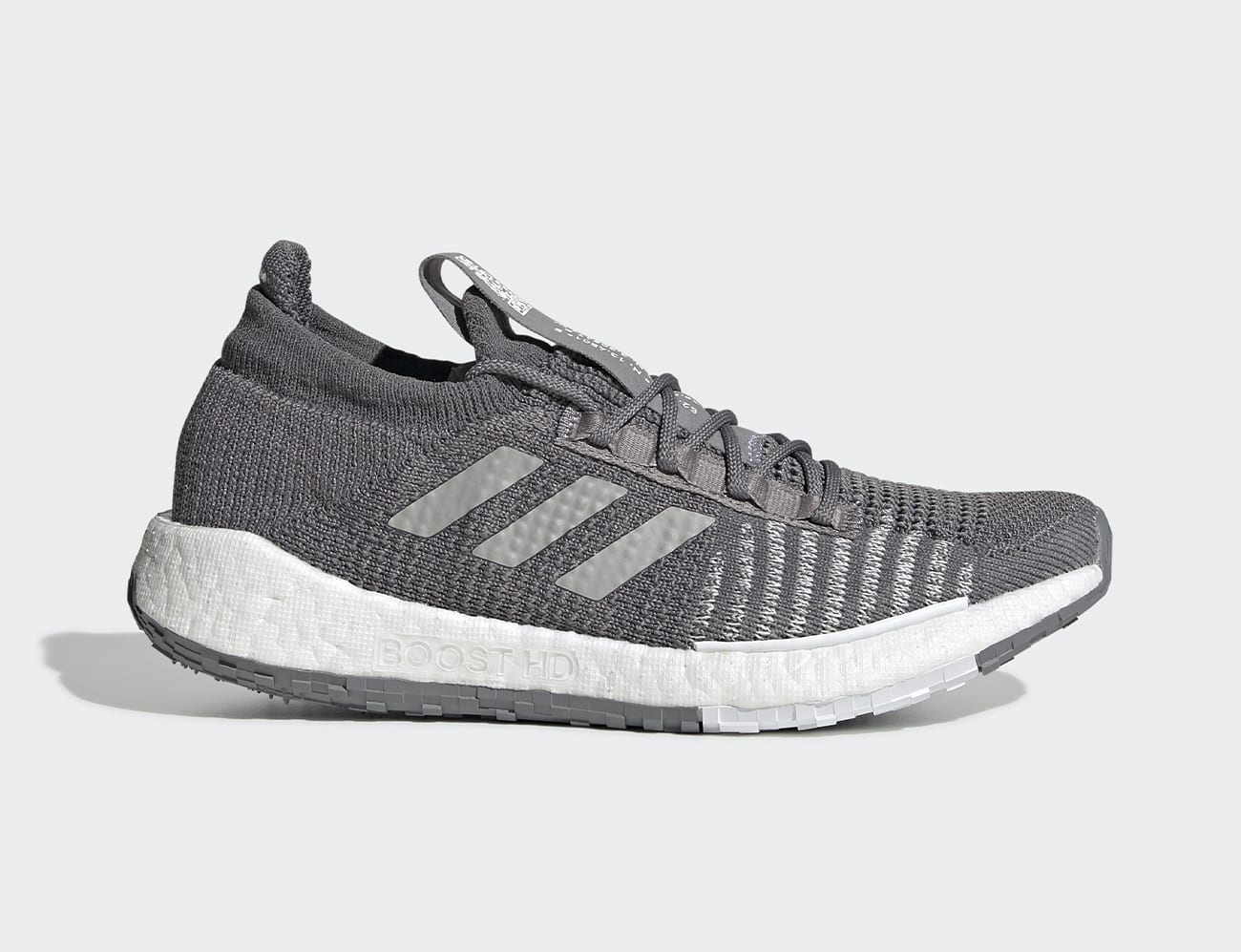 Choose Pulseboost HD for agility in the city.
For the quick turns and stops that are common in city running, the Pulseboost HD makes for a responsive all-around trainer. The high-density Boost HD midsole delivers iconic energy return with added stability, and the adaptive Traxion outsole provides excellent grip for quick moves on any surface. The knit upper features non-stretch zones for support throughout the foot to keep you secure through every stride. And as a fun added feature, you can scan the QR code on the tongue of the Pulseboost HD to unlock exclusive playlists to accompany your next run.
LONG DISTANCE RUNNING SHOES
For runners looking to clock big mileage, look for shoes that offer the perfect combination of lightweight cushioning, breathability, and lightness. These shoes offer versatility from distance training to race day.
Solarboost 19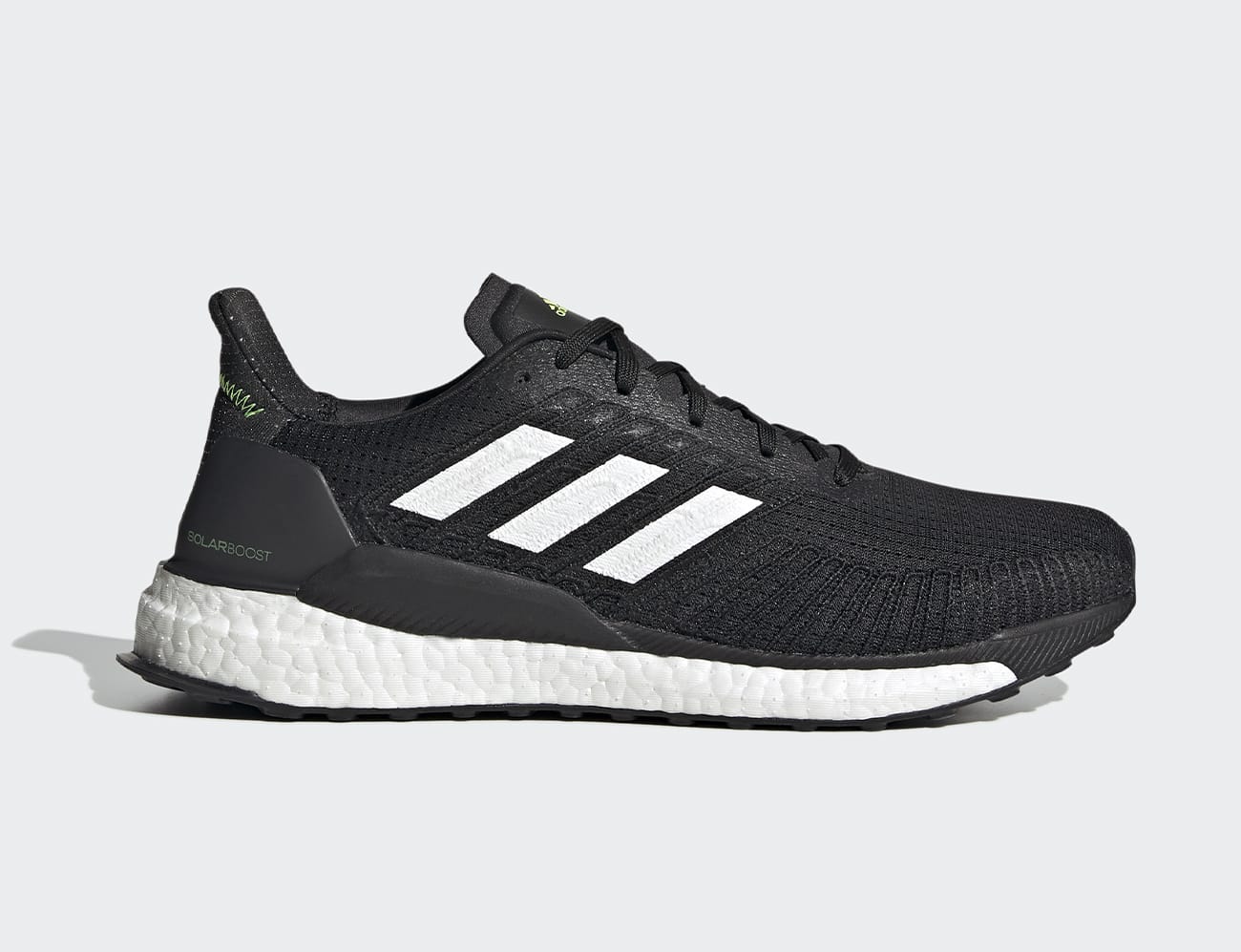 Choose Solarboost 19 for a distance shoe with more cushioning.
Designed for long distance runs, Solarboost 19 provides lasting comfort, energy return and support. Inspired by NASA technology, the air mesh upper lets your foot breathe and expand while precise stitching reinforces the toe box and amplifies the shoe's responsiveness. The Solarboost 19 is a great distance training shoe for runners who want more energy return and cushioning.
Adizero Boston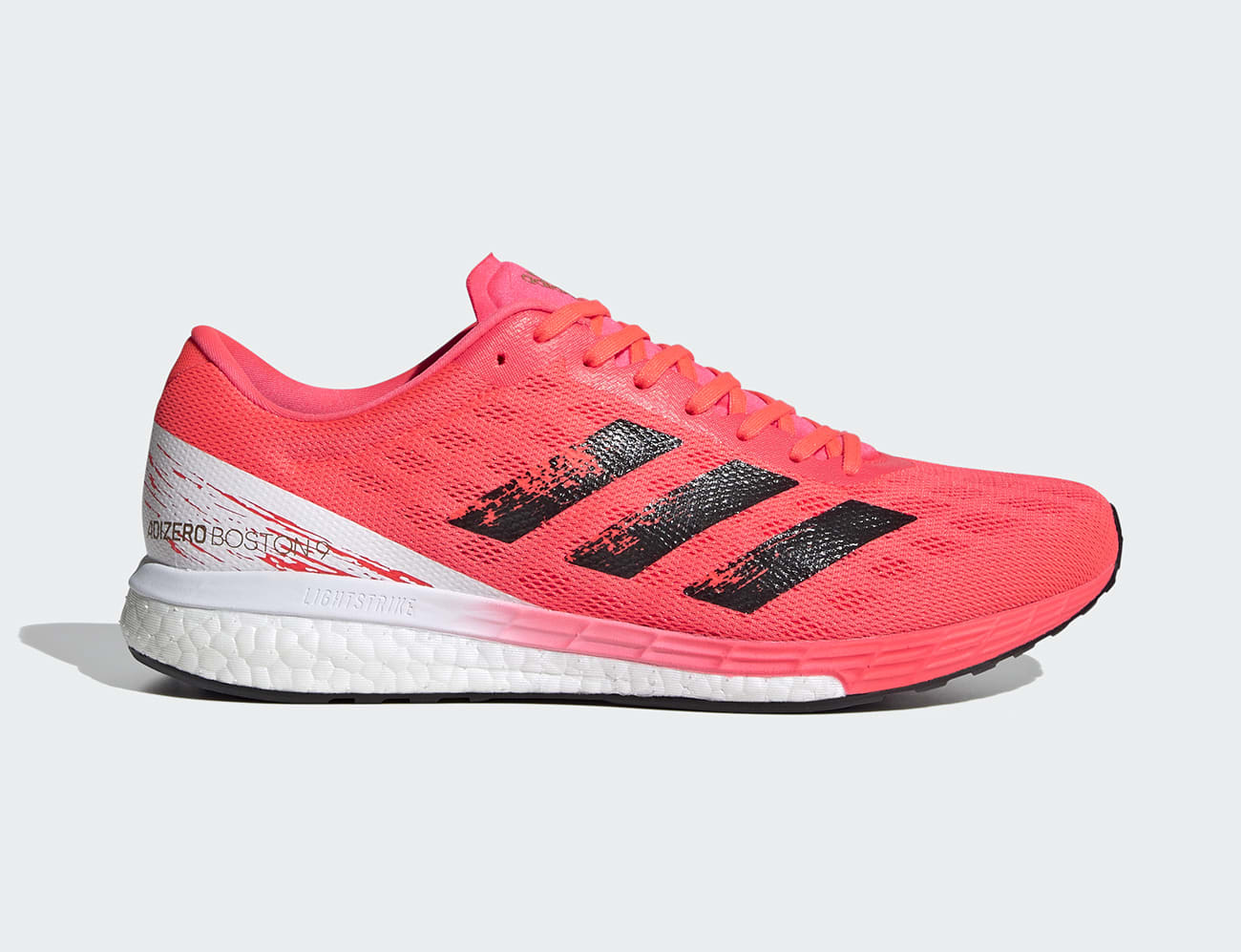 Choose Adizero Boston for a lightly cushioned race day shoe.
Created for one of the most famous marathons in the world, the Adizero Boston remains a go-to race day pick whether you're taking on Heartbreak Hill or not. With a close-to-ground midsole of Boost cushioning, you'll experience a responsive, energized stride from start to finish. The newest edition of the Adizero Boston 9 pairs the Boost cushioning with Lightstrike for a fast, snappy feel, giving every step more energy than the last. The lightweight air mesh upper supports your feet with exceptional breathability and a locked-down fit that keeps pace.
LIGHTWEIGHT RUNNING SHOES
Ultra-light shoes that keep up with your need for speed and are the go-to choice for intervals and speed training.
Adizero Adios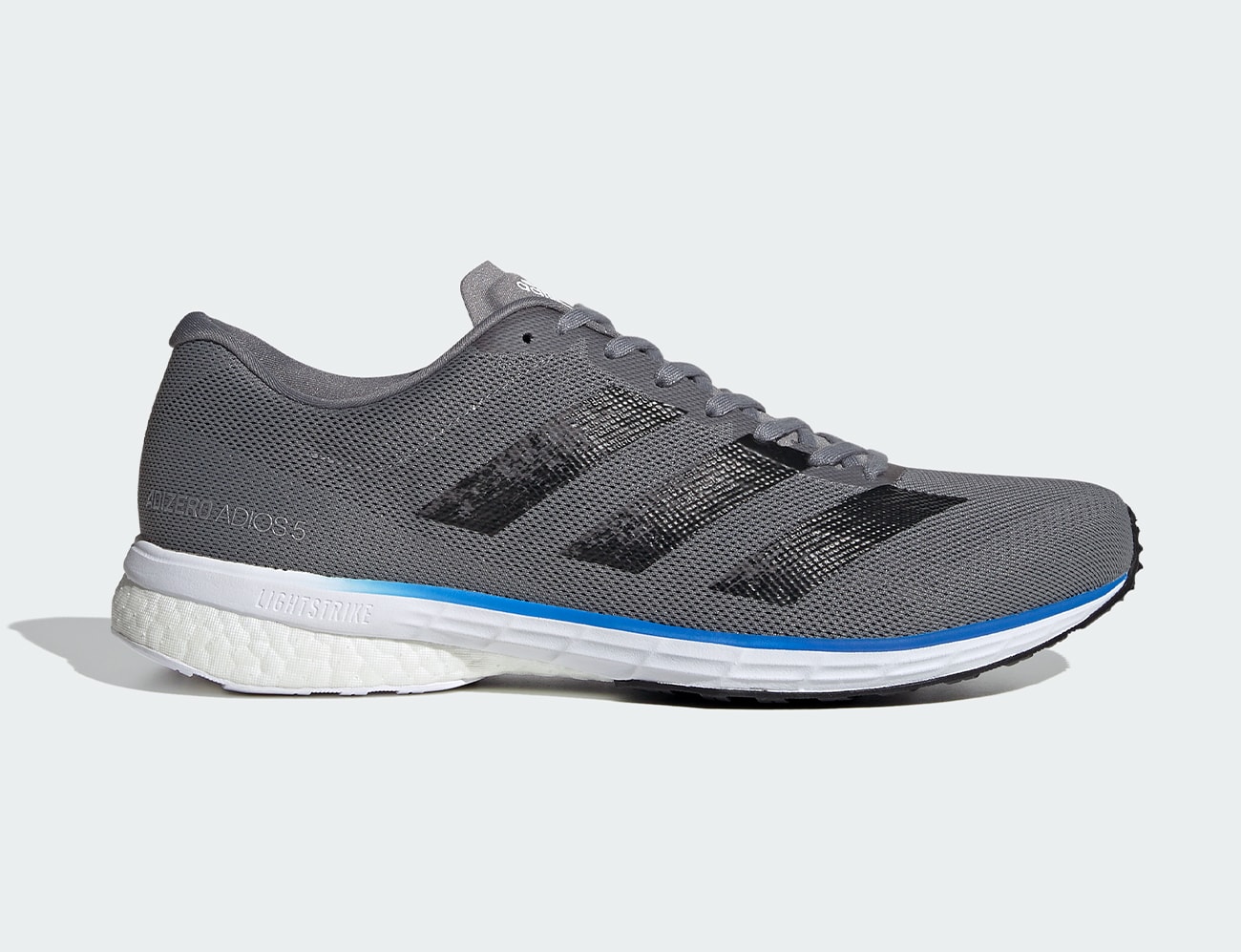 Choose Adizero Adios if you're trying to achieve a race day PR.
Designed by master Japanese shoemaker Omori, the Adizero Adios is a favorite among racers who crave speed. With its lightweight, neutral construction, every step from a mile to a marathon feels unhindered. The Adizero Adios features a slim Boost midsole for lightweight cushioning and energy return while maintaining a faster, lighter construction. The newest Adizero Adios 5 also features a Lightstrike midsole in between the Boost and the upper for that signature snappy feel. The feather-light, breathable mesh upper offers support with a locked-down fit that keeps up with racing and fast training.
SL20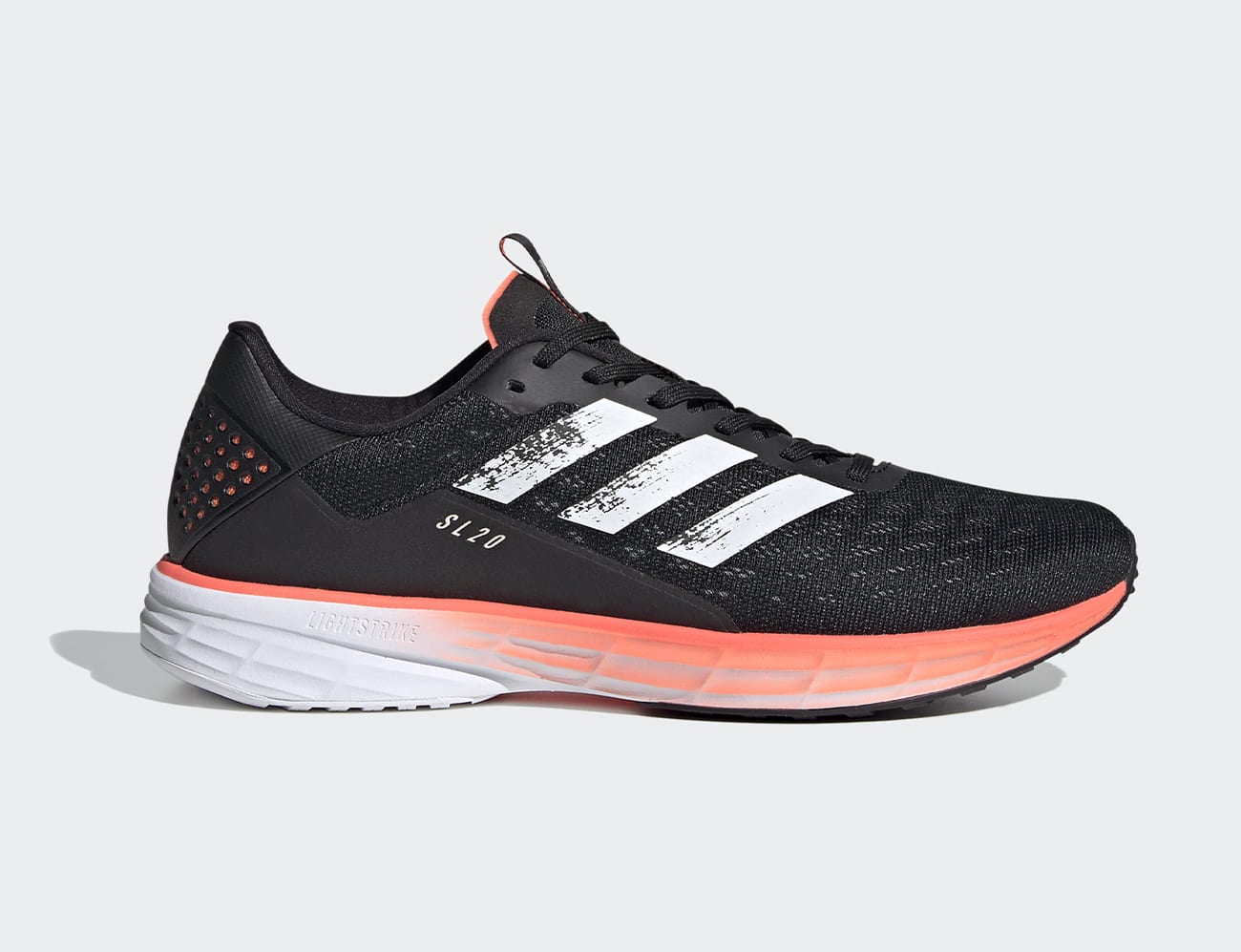 Choose SL20 if you want a lightweight speed trainer.
Feel fast, run fast, be fast. Experience feather-light propulsion in the SL20, which features a new innovative Lightstrike midsole that delivers the optimal balance of lightweight cushioning and responsiveness, giving each step an energized, snappy sensation. The airy mesh upper keeps the shoe feeling breezy, creating a reliable choice for tempo runs and speed training, and nicely rounds out any runner's training rotation.
STABILITY RUNNING SHOES
When neutral running shoes don't give you the support you need, turn to stability shoes with extra support to correct your stride.
Solarboost ST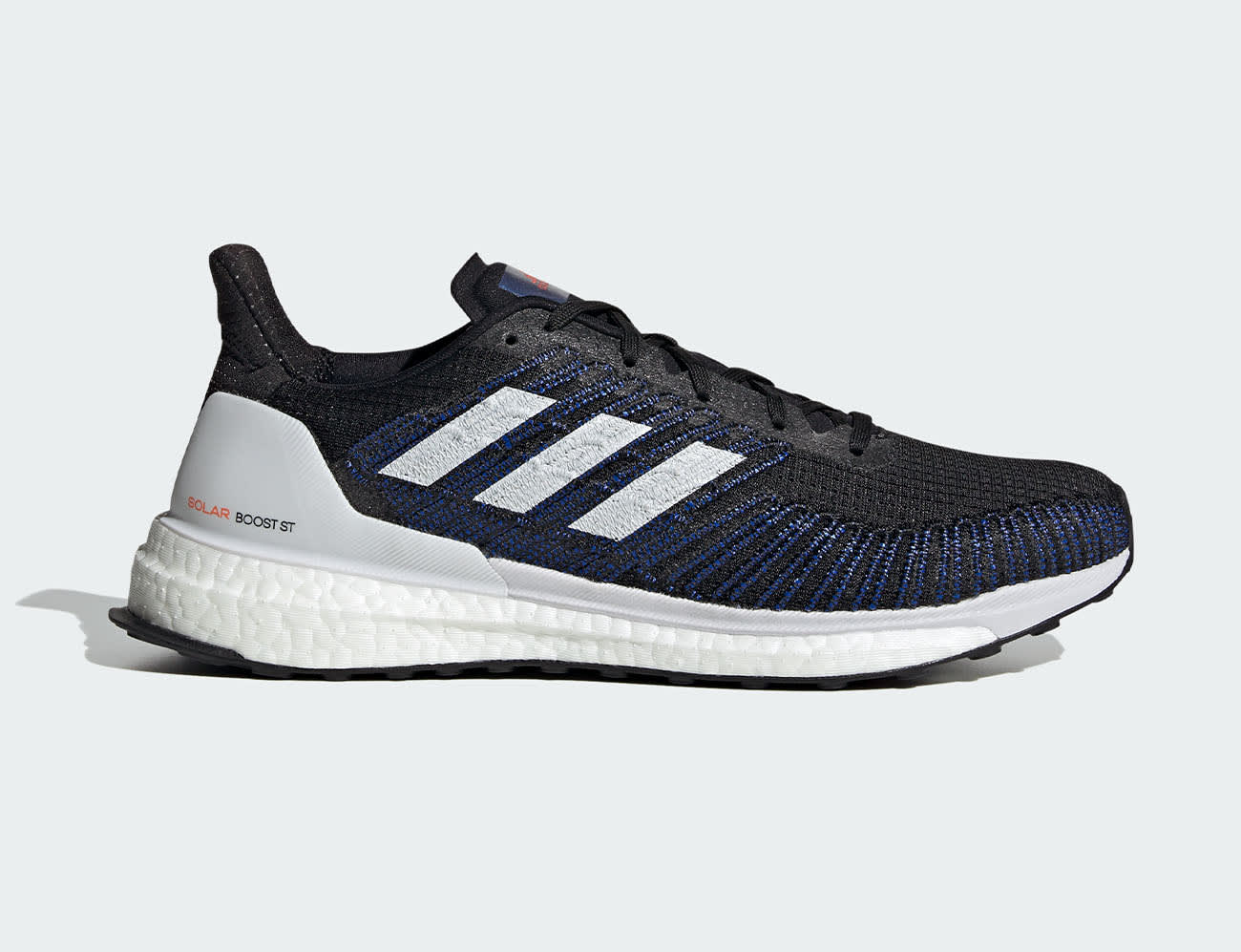 Choose Solarboost ST to get your favorite running shoe features with extra support.
Distance runners, rejoice. Like the neutral version, the Solarboost ST features the same breathable mesh upper and reinforced stitching for targeted support mile after mile. The Solarboost ST is perfect for people who need supportive shoes for overpronation. The Boost midsole delivers that iconic energy return that runners love, while dual-density cushioning on the inner side of the foot works in tandem with the Solar Propulsion Rail to guide the foot for stability with every step.
TRAIL RUNNING SHOES
For runners who trade the city streets for the wilderness, pick up a running shoe built with a durable outsole and support for uneven terrain.
Terrex Two Ultra Parley Trail Running Shoes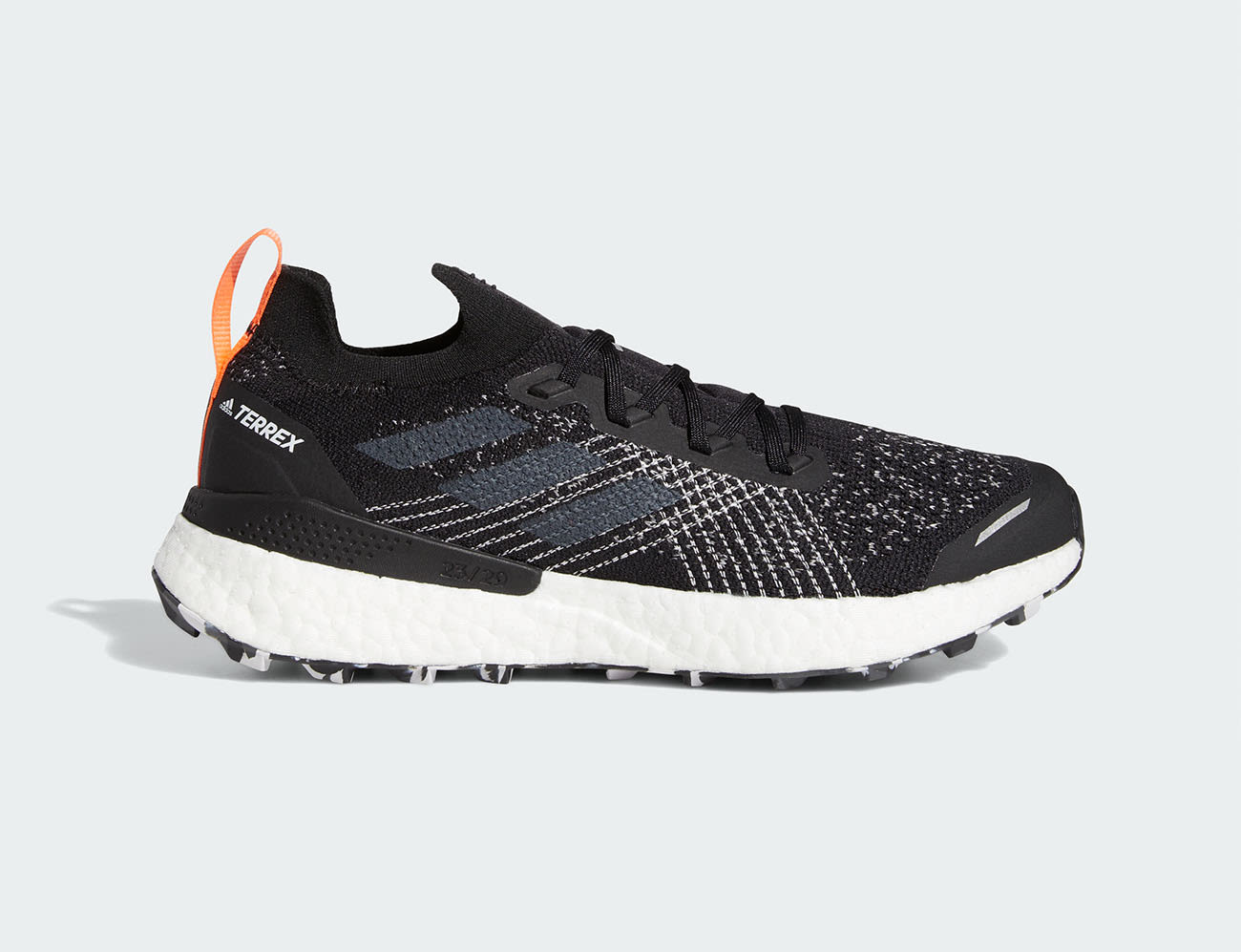 Choose Terrex Two Ultra Parley if you're hitting the trails.
Take your run to the wild in these trail running shoes that are made for exploring. Featuring our most responsive cushioning technology, the full-length Boost midsole returns energy regardless of temperature, so you can trail run in any condition and distance. The Continental™ Rubber outsole flexes with your feet for a comfortable, adaptive run and delivers grip and traction for any surface. The sock-like Primeknit upper adapts to your foot for support and breathability. In this Parley Ocean Plastic edition, the upper is created with upcycled waste intercepted from beaches and coastal communities, so you can run in the outdoors knowing you're doing your part to protect it.
HOW SHOULD MY RUNNING SHOES FIT?
Once you narrow down how you'd like the shoe to perform, the next step is finding the right fit. Even the most technologically advanced running shoe won't feel good if it doesn't fit your feet correctly. Refer to our running shoe sizing guide to find your proper shoe size, but also consider how various shoe constructions can feel different. For example, your shoe size might feel slightly smaller in a sock-like upper versus a mesh knit upper. You can find what kind of upper the shoe has in the product description on adidas.ca. Regardless, a well-fitting shoe leaves plenty of room for the foot to expand in the toe box, supports your midfoot, and doesn't let your heel slip out with each step.
HOW OFTEN SHOULD I REPLACE MY RUNNING SHOES?
A good rule of thumb is to get new running shoes every 300 to 500 miles, or roughly every four to six months if you average 20 miles per week. After thousands of steps in the same shoe, the cushioning in the midsole can become compressed, limiting its energy return and support. At the same time, the tread of the outsole wears down, which reduces traction, and the knit upper can stretch out, losing its supportive capabilities. You'll feel and see the difference, and that's how you know when to replace your running shoes.
To help get the full life out of your shoes, check out our article on how to clean running shoes to keep them fresh mile after mile.
Stay Updated
Be the first to know all about stories, launches and events.