REAL MADRID SOCCER JERSEYS & GEAR
[4]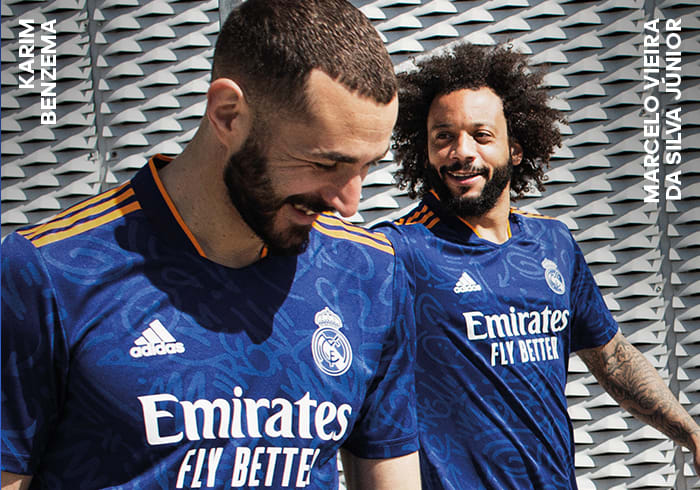 Grandeza gives us the freedom to be creators. It's a freedom born from the streets of Malasaña where artists are constantly reinventing the city landscape, leading from the front, following nobody. It's all inspiration for the away kit - sourcing its origins from the graffitis of the Malasaña district of Madrid, it's an expression of where football and the city's culture meet. By detailing the street art on the back, the away kit expresses and represents Madrid's diversity and showcases the creators of the city. It embodies the rebellious optimism of madridista creators who create new boundaries.
BRING YOUR GRANDEZA WITH YOU.
Sign up to receive our newsletter and keep up with all Real Madrid news.
Real Madrid adidas Football Sports and Training Wear
Real Madrid is easily among today's most competitive professional football clubs and one of the top crowd favourites. For a fan, wearing clothing inspired by the team's actual practice and match apparel is a truly exciting proposition. adidas Real Madrid football clothing is sought after by fans due to its unmistakeable styling, outstanding technologies and exceptional construction. The home and away jerseys, for example, come in authentic and street versions but share the same iconic Real Madrid crest. Authentic jerseys feature Climachill technology for ultra dryness and coolness even when the day is unforgivingly hot. The slim fit and heat-transfer details of these jerseys dramatically reduce weight and resist wind drag so you can glide across the field. Streetwear jerseys share a similar design inspiration but use Climalite fabric that wicks sweat away from the body so you remain dry and cool throughout the match. Away shorts use the same fabric and follow the same styling as the jerseys so you can score the perfect look for a training session or actual game.
Warm yourself up
The Real Madrid adidas range includes jackets and long sleeves that will allow you to fight both heat and cold while you hone your skills in practice or do your best in an intense game. Our anthem jackets sport the iconic team crest on the chest, as well as a 100% polyester twill fabric that's kind to the environment. The all-weather jackets boast back ventilation and a packable hood that's a unique marriage of form and function. These adidas Real Madrid football garments will not only keep you warm when needed, but also help you cool down after heated runs on the pitch.
Complete the Real Madrid look
One look at our range and you'll find practically every item of adidas Real Madrid football clothing and accessories that you could possibly need. From beanies, caps, wristbands and gloves through to gym bags, scarfs, shin guards and backpacks, we have you completely covered. Click through our products to find the items that will complete your look so you can play, practice or cheer in unmistakeable Real Madrid fashion.