FIFA World Cup
·
Balls
[5]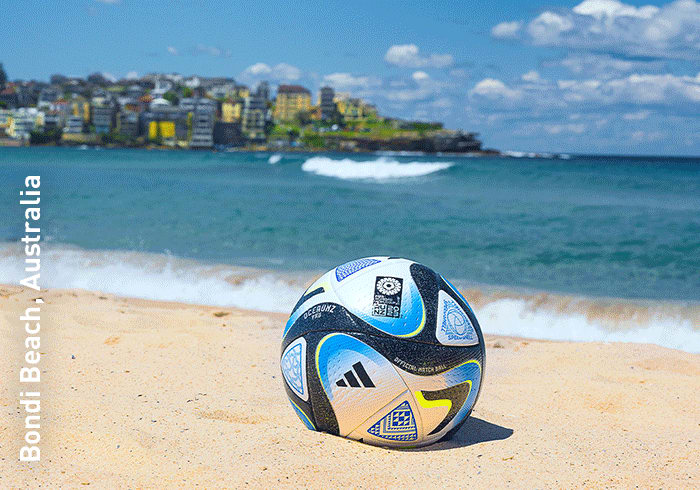 YOUR WORLD CUP BALL
Nature takes hold with the official FIFA Women's World Cup 2023™ match ball. Inspired by Australia and New Zealand's captivating waterways and coasts, this seamless adidas Oceaunz ball uses a wave-like graphic and iconic detail to celebrate each country's vital connection to ocean and earth.
world cup balls
As 32 teams come together on soccer's greatest stage, one ball will be at the center of it all: the adidas Al Rihla. The Official Match Ball for the FIFA World Cup Qatar 2022™, it's designed to be the fastest and most accurate World Cup ball to date. As the game gets faster, accuracy and flight stability become even more important. For the FIFA World Cup Qatar 2022™ ball, adidas uses a new design that allows the ball to maintain its speed significantly higher as it journeys through the air. This FIFA soccer ball features Speedshell, a textured polyurethane skin in a new 20-piece panel shape that enhances aerodynamics to improve the accuracy, flight stability and swerve of shots. And because form and function go hand in hand, the lines across the surface are inspired by the futuristic stadiums across the five cities that will welcome soccer fans in Qatar.
To top it all off, the World Cup ball is finished with a pearlescent white base to represent the booming pearl industry in the host nation. In honor of the unifying power of the beautiful game, adidas is pledging 1% of global net sales from soccer balls to Common Goal until 2023. In addition to match balls, you can take your pick of durable training balls, brightly colored winter balls, recreational balls and mini soccer balls featuring elements of the FIFA World Cup Qatar 2022™ ball's striking design. Browse our selection of World Cup balls to mark an occasion worth remembering.